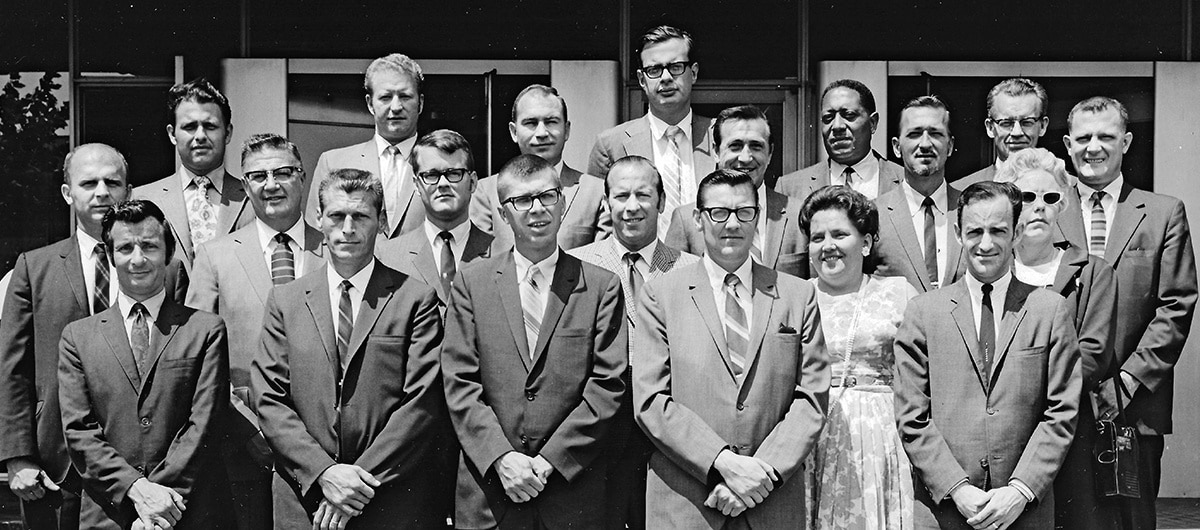 Back To All Blog Posts
Code Black
November 4, 2019
|
|
By Clyde W. Ford
I held fast to an overhead bar as the elevated train I rode in swayed side to side, rocketing into Manhattan from the Bronx. When it dove beneath the Harlem River, everything outside the car went dark, and I caught a reflection of myself in the window: a ballooned Afro, pork chop sideburns, a blue zoot suit with red pinstripes, a fire engine red turtleneck, a trench coat with its collar turned up.
On that fall day in 1971, I was young and Black, defiant and angry, and more than ever determined not to be like my father. Yet there I stood, about to report for work at IBM, where he'd worked for twenty-five years.
***
A generation earlier, in 1947, my father stared across a similar threshold, into an IBM office in New York City. He was a member of the Greatest Generation and had been a first lieutenant in the famed 369th Black Infantry Regiment of the US Army. At twenty-seven years old, he cut a handsome figure in his dark gray suit, red striped tie, and wide-brimmed hat with a satin band. But instead of defiance, he masked diffidence; instead of anger, he displayed anticipation; instead of determination not to be like his father, he stood ready to prove to everyone, including his father, that he deserved to be the first Black systems engineer to work for IBM.
It was the late 1940s, post–World War II America. Anything was possible! Duke Ellington swung jazz. Jackie Robinson swung a big-league bat. Brown v. Board of Education swung through the courts. Nowhere were new possibilities and promises felt more deeply than in Harlem, which was then Black America's gravitational center. In a City College classroom on the edge of Harlem, an accounting professor invited one of her students to dinner. The Black GI arrived at her swanky apartment dressed to the nines, and Thomas J. Watson Sr., founder of IBM, stepped from the shadows. Watson offered my father a job, and a Branch Rickey–Jackie Robinson moment ensued: the start of an unknown chapter in the history of modern-day computers.
My father described himself as the "black sheep" of his family, which he meant quite literally. In the mid- to late 1800s, my great-grandfather, Thomas McLeod of South Carolina, who had Scottish ancestry and was perhaps a slave holder or the child of a union between a slave holder and a slave, fathered children with my great-grandmother, Abbie Davis. From that union came several generations of my father's family, some fair enough to "pass" for White. My father believed that his darker skin placed him at a disadvantage. It also made him perpetually distrustful of others.
Skin color conveyed intelligence, my father believed. Lighter skin meant greater intellect, darker skin the opposite. My father read widely of such racist views in books and articles by authors such as Arthur Jensen and Charles Murray, and he did nothing to counter what he read.
Even with the theories of these authors debunked, and their reasoning shown to be corrupt, my father argued in their favor, despite all the contrary evidence of his own substantial intellect and his many fine accomplishments. His vociferous support of this self-inflicted racial wound was a constant source of friction between us.
When I was in high school, a typical afternoon would find me parked in New York City's Schomburg Library, devouring books on Black history. I savored the accounts of men and women whose greatness had not found its way into the texts forced on me at school. Then I'd come home to a man lamenting being born with dark skin.
* * *
"C'mon, Dad," I said. "You don't have any suspicions about why Watson hired you?"
"I suspect IBM needed a Blackie."
"But they already had one. T. J. Laster was hired six or eight months before you."
He bristled. His body stiffened. "He was in sales. I was in systems engineering."
"Okay, but why you? Why'd Watson hire you?"
My father paused, and a long silence enveloped us. He turned away from the vista over the Hudson to put a hand on my shoulder.
"I'm tired," he said. "Let's sit."
We walked to a nearby picnic table, where I swung into a seat. My father turned back toward the Hudson, then, leaning on his cane, slowly lowered himself onto the bench. He tucked his legs under the table, finally turning to face me. A sly smile creased his lips.
"I ever tell you about the time they sent me to a business meeting which turned out to be a meeting with a prostitute?"
His self-knowing chuckle reassured me that he'd reveal nothing more about Watson. My father's fondness for secrecy resembled that of IBM's.
* * *
IBM's secret history began in the 1920's, not long after my father's birth but certainly well before he had any inkling of his coming entanglement with the company. It began at a time when eugenics was all the rage.
Eugenics promoted thinly veiled racism under the guise of pseudoscience. Eugenicists proposed several tools to cull America of undesirable human beings: sterilization, birth control, incarceration, miscegenation laws, immigration restrictions, and even death. In the early 1900s, as many as thirty states had passed eugenics laws that allowed forced sterilization or that restricted marriage between individuals of different races.
American eugenicists, led by Dr. Charles Davenport, elevated their movement internationally with the help of prominent eugenicists in Germany. In 1926, Davenport, head of the Eugenics Research Association, an outgrowth of the Eugenics Record Organization, which he also headed, received funding for a two-year study of "pure-blooded negroes," Whites, and their undesirable mixed-race offspring. In 1928, Davenport chose the island of Jamaica for the study.
Enter Thomas J. Watson and IBM.
With Watson's newly minted company eager for the business, IBM engineers worked with the ERO at the Cold Spring Harbor Laboratory to design a punch card format for collecting all the information needed to report on racial characteristics. Watson's engineers also worked out the details of adjusting the various sorters, tabulators, and printers to provide Davenport and the ERO with the output they required.
Thanks to IBM's assistance, the success of the Jamaica Project allowed the Cold Spring Harbor Laboratory, and Davenport, to announce plans for a global study to identify mixed-race individuals as a first step toward their elimination in favor of "racially pure stock."
I savored the accounts of men and women whose greatness had not found its way into the texts forced on me at school. Then I'd come home to a man lamenting being born with dark skin.
By the end of the 1920s, IBM's involvement in advancing racial purity had only just begun. Thomas J. Watson understood the power of harnessing information technology in the service of racial purity. Five years after his involvement with the Jamaica Project, he placed IBM in the service of Adolf Hitler and the Third Reich, using the lessons learned in creating Davenport's racial identification system to help Hitler identify and exterminate Jews. The IBM punch card templates for the Jamaica Project on miscegenation and for Nazi Germany's campaign against the Jews bore a striking resemblance.[i]
Thomas J. Watson hired my father less than two years after the end of World War II, two years after he had finally recouped the extensive profits his company made in support of Hitler and the Third Reich.[ii] Now, under a new Thomas J. Watson, the founder's son, IBM pursued a remarkably similar strategy in support of apartheid, with an even more powerful arsenal of digital computers at the company's disposal.
Beginning in 1952, IBM leased Hollerith machines to the South African government through its South African subsidiary, much as it had with the Third Reich, to tabulate results of the 1951 census.[iii] That census became the basis for determining the racial category to which a person belonged. In 1965, IBM bid unsuccessfully for the contract to create the passbooks designated for Blacks, but the company won the bid to create the "book of life," a passbook required of the non-Black population.[iv] However, by 1978, IBM had seized control of the business of creating and maintaining passbooks both inside and outside of the Bantustans.
Watson and his IBM did not create my father's wound of color, but working at IBM, with its long history of technology in the service of racial purity and oppression, appears to have never allowed that wound to heal. My father's belief in the importance of skin color in determining one's destiny only grew stronger over the years of his employment. IBM's dark history, however unconscious, seems to have gotten under my father's skin.
References:
[i] Edwin Black, War against the Weak: Eugenics and America's Campaign to Create a Master Race (Washington, DC: Dialog Press, 2012). This well-researched and heavily documented book is the basis for the assertions in the excerpt regarding IBM and the eugenics movement.
[ii] Edwin Black, IBM and the Holocaust (Washington, DC: Dialog Press, 2001), 419-24. This well-researched and heavily documented book is the basis for the assertions in this excerpt regarding IBM and the Holocaust.
[iii] Michael Kwet, "Apartheid in the Shadows: The USA, IBM and South Africa's Digital Police State," CounterPunch, May 3, 2017, https://www.counterpunch.org/2017/05/03/apartheid-in-the-shadows-the-usa-ibm-and-south-africas-digital-police-state.
[iv] Kwet, "Apartheid in the Shadows."
Clyde Ford is an author living in Bellingham. The above is excerpted from Think Black: A Memoir by Clyde W Ford, copyright 2019. Reprinted with permission by Amistad, an imprint of HarperCollinsPublishers. Ford is currently presenting his free Humanities Washington talk, "Let's Talk about Race," around the state. Find an event.