Back To All Blog Posts
Looking for Betty MacDonald
January 12, 2017
|
|
By Paula Becker
Was it the house I fell for first? Or was it Betty Bard MacDonald, who wrote The Egg and I and Mrs. Piggle-Wiggle, and who described the house with such affection?
"According to real estate standards, Mother's eight-room brown-shingled house in the University district was just a modest dwelling in a respectable neighborhood, near good schools and adequate for an ordinary family. To me that night, and always, that shabby house with its broad welcoming porch, dark wood- work, cluttered dining-room plate rail, large fragrant kitchen, easy book-filled firelit living room, four elastic bedrooms—one of them always ice-cold—roomy old-fashioned bathrooms and huge cluttered basement, represents the ultimate in charm, warmth, and luxury." [Betty MacDonald, Anybody Can Do Anything]
The house that Betty wrote about was in Seattle, but it could have been anywhere. For her millions of readers, it was anywhere, or rather it was our own place, a memory we had—or wished we'd had. It evoked that place of shelter and acceptance we spend our lives trying to find our way back to, a home both actual and iconic.
I knew about the house because I'd recently stumbled on Betty MacDonald again after a whirlwind acquaintance with her books in childhood. I was beginning to learn about Betty's world, to slip into her books, thinking and daydreaming about her life, about her family, and especially about her houses. Betty MacDonald's books describe almost all of her homes and what those places meant to her. This house, in Seattle's Roosevelt neighborhood, sheltered her family during the 1930s, the period described in her books The Plague and I and Anybody Can Do Anything. More than any of Betty's houses, I'd tried to picture this one. Perusing old Seattle city directories—those dusty volumes languishing in libraries and historical archives that record who lived where, year by year—I came upon the listing for "Bard" with a jolt: 6317 15th Avenue Northeast, Seattle. I knew that house. It was six blocks from my own address, on a busy arterial street I drove down many times each day.
It was a hunch, but I thought this house might have been Betty's inspiration for the upside-down cottage where her beloved character Mrs. Piggle-Wiggle lived. I could imagine it from Betty's description: "The most remarkable thing about Mrs. Piggle-Wiggle is her house, which is upside down. It is a little brown house, and sitting there in its tangly garden it looks like a small brown puppy lying on its back with its feet in the air." [Betty MacDonald, Mrs. Piggle-Wiggle]
The house on 15th Avenue Northeast was right side up. But it was comfortably slouchy, faded and worn in a favorite-sweater kind of way. It looked like someone had once cared for it, and maybe still did. Children who clattered across the broad wooden front porch would not be damaging anything. The house just felt Piggle-Wiggly. So did the neighborhood, full of old Craftsman-style houses set far enough back from the sidewalks to showcase those tangly gardens, full of tall hollyhocks, overgrown and deeply scented rose bushes, snapdragons like the ones my cousins and I played with in my grandma's backyard, pinching and releasing the blossoms' bases to make them "talk" to one another.
It was in El Paso, Texas, in 1971, that I first encountered Betty Bard MacDonald, on the dust jacket of a Piggle-Wiggle book. I was eight years old. The book was from my classroom's tiny library, and I had carried it in my turquoise-flowered suitcase to Grandma's house.
I had been trying and failing to learn to ride my big new red bicycle, finally giving up for the day. I opened the book in Grandma's shady guest room. The book was cheering. Mrs. Piggle-Wiggle seemed to understand that children had complicated feelings, that doing new things well sometimes took time. She was so wise and kind that even the parents in the book sought her advice. I felt almost as if I knew her—as if we would be friends if I could visit her. I read all four of the Piggle-Wiggle books as quickly as I could find them and longed for more.
Mrs. Piggle-Wiggle's last page told me that its author, Betty MacDonald, had been born in Boulder, Colorado, and had grown up in Butte, Montana, and Seattle, Washington. It was the first I'd heard of any of those places, but the names stayed with me. Washington was the state that put stickers on my sack-lunch apples: "Grown in Washington." When I moved to Seattle twenty-two years later, I thought about those stickers, and I remembered that long-ago author description. Betty MacDonald lived here, I thought idly sometimes. I wondered where she might have lived, and what became of her.
People in Seattle knew Betty's name, but many of them knew her best for writing a different book—a best seller whose catchy title I recognized, although I'd never read it: The Egg and I. I found the book easily and started reading.
"Critics are cackling over The Egg and I," proclaimed a blurb on the cover. "She has a hilarious sense of the ridiculous. If you've forgotten how to laugh, this book is what the doctor ordered!"
The Egg and I was published on October 3, 1945, and American readers—parched for laughter after enduring World War II—instantly embraced its tart, self-deprecatory humor. Before a year was up, The Egg and I had sold more than a million copies and was topping nonfiction best-seller lists, showing no sign at all of slowing down.
Her books all magnify the Bard motto "Don't be a saddo." Life is hard. All we can control is our response to it, and laughing beats crying.
The book was Betty's story, or a version of her story: a childhood in a warm, rowdily eccentric family and her marriage in the 1920s to an insurance salesman turned chicken rancher named Bob, who whisked her off into the boondocks of Washington's Olympic Peninsula. There she endured the ceaseless rain and learned "to hate even baby chickens." [Betty MacDonald, The Egg and I] She was forced to rely on the dubious assistance of her nearest neighbors, a slapdash couple with a brood of a dozen-plus children. Betty dubbed the pair Ma and Pa Kettle. Hundreds of chickens, one burst water tower, a baby, and several years later, Betty and Bob decamped to a more modern farm. Or so the story went in The Egg and I.
I found The Egg and I hilarious and bracing, but kind of mean. I learned there was another book, The Plague and I, about Betty's yearlong battle with tuberculosis nearly a decade after leaving the egg farm. The Plague and I intrigued me, both with the story Betty told and with the way she told it. What kind of person wrote about tuberculosis with such twist, such quirkiness, that the fear of death was beaten down with laughter? By the time I read Betty's next book, Anybody Can Do Anything, I was hers. Betty MacDonald not only made me laugh, she transported me. I didn't know it yet, but those dual qualities were Betty's special magic, part of the reason so many readers treasured her books and frequently reread them.
Anybody vividly describes a 1930s Seattle. It recounts Betty's hardscrabble years as a single mother during the Great Depression, frequently desperate but buoyed by the support and companionship of her mother and siblings and by her own dark sense of humor. Betty's description of the way her idiosyncratic family's sense of humor and hyperbole shaped every situation hung in the air as if Betty had just left the room.
Betty's final autobiographical book, Onions in the Stew, tells of her second marriage and of the pratfalls and pitfalls she encountered while raising teenagers on Vashon Island, a mostly rural outpost a short ferry ride from Seattle. This book was different from its predecessors: slicker, more restrained and constricted, as if molded by one of those 1950s girdles. For me, though, that was a minor point. Through Betty's words, I was starting to see the past—her life, lived decades ago in many of the places where I was living my present. I was beginning to catch glimpses of Betty's 1930s, '40s, '50s—shimmering through my 1990s and 2000s.
Betty's quick wit and acid humor laced through her four works of autobiography, four sparkling Piggle-Wiggle books for children, and the fairytale-like Nancy and Plum. Her books all magnify the Bard motto "Don't be a saddo." Life is hard. All we can control is our response to it, and laughing beats crying. This sentiment cheered and encouraged readers worldwide. Betty—her fresh, smiling face made globally famous by its presence on all but the very earliest editions of Egg's front cover—was a celebrity. When Universal-International Pictures released the film version of Egg in 1947, Betty's character was played by the glamorous movie star Claudette Colbert.
Five decades after Betty MacDonald published Egg, I read her books and was entranced by her rendering of our shared metropolis. I read the books again and again, as if hoping that reaching back into Betty's stories would let me somehow graze fingertips with her. I wanted more and more to really know, in whatever way it might be possible, the woman behind the books.
I often sat in traffic in front of the house on 15th Avenue Northeast (which I thought of as the Anybody house), wondering about Betty's family. Betty's books painted her family broadly as eccentric but added finely detailed touches about each individual. Her paternal grand-mother, Gammy, wore her corsets upside down and baked her grand-children frugal cookies that combined every ingredient lurking in the corners of the icebox. These inedible rocks were slipped to unsuspecting neighbors when Gammy's head was turned. Betty's mother, Elsie Bard, was known to everyone—even her children—as Sydney. In Betty's books, Sydney is silent, implacable, a cipher, like the ghost light left burning overnight at every theater to keep stagehands and others from the peril of total darkness. And what of Darsie Bard, Betty's father, a professional mining engineer to whose premature death she allocated but a single line, as if to further probe the story might precipitate hemorrhage?
Above all the other family members glistened Betty's older sister. Mary was the sun around which other family members revolved, whether they wanted to or not. She was feisty, bossy, opinionated, never without a plan. Betty had three younger siblings as well: Cleve, the only boy; Dede, the only small, dark-haired one among tall, ginger-tressed sisters, droll and quick-witted; and Alison, the youngest, brought up helter-skelter by the rest. In the corners, darting through the stories, squabbling like the children in need of Mrs. Piggle-Wiggle's cures, were Betty's own daughters, Anne and Joan. And telling the tale was Betty, her words carrying me into the past.
By journey's end, I wanted others to find her, this young woman whose face was as familiar during the 1940s and 1950s as any movie star's, whose voice was the first—male or female—to entrance readers around the planet with a story deeply rooted in the great Pacific Northwest.
I began dipping into history books and photography archives, trying to see Betty's world when the Anybody house was hers. I wrote an article about the Anybody house, "Time-Traveling the Roosevelt District with Betty MacDonald," for the weekly Seattle Press. I wondered frequently what that house looked like from the inside.
When I was near the house, I sometimes lurked in the car, the engine idling. One summer morning in 2005, as I was parked in the alley behind the house, trying to picture the kitchen, a woman pulled her car up beside mine and looked at me quizzically. "Do you live here?" I asked. "I'm interested in an author named Betty MacDonald, who lived here in the 1930s."
"Oh, I know about her," the woman said, "I have a newspaper article." Her name was Tanya, and she invited me in.
The house was very nearly as Betty had described it in her books: the ample living room with a fireplace, where the Bards played Chinese checkers and piano and listened to football and dance marathons on the radio; the main-floor back bedroom that was always cold. The house felt worn but tended to, with a carelessly eccentric air that I think the Bards would have appreciated.
Tanya led me up the tight front stairs to a small hallway with three bedrooms. Tanya slept in the front bedroom, which Betty had said was Sydney's room. When I saw the issue of the Seattle Press containing my article next to the bed, time bent for me. For just a moment, I felt I was reaching through the temporal boundaries separating me from the Bards and their life in that house. I felt their echo, and it thrilled me.
After that day, I felt the Anybody house had somehow given itself to me, bestowed the gift of retrospective clairvoyance, its cheerful, shabby rooms revealing the past. Going inside the house fully ignited my quest to find Betty. I started traveling beyond Seattle. I called these research trips, but they were pilgrimages.
I traced Betty to the solitary old house in Boulder, Colorado, where her life began. I followed her to a modest house set high above a quiet street in Butte, Montana. I found an empty road in Placerville, Idaho, where a small cabin once endured the bitter winters. I found homes in Seattle: a grand place overlooking Lake Washington that said, "We have arrived"; a sprawling, comfortable country house that told the world, "We're staying, and we welcome you"; and the much more modest Anybody house on its busy street, which sighed, "Things didn't quite turn out as we'd planned."
There was an empty field along a winding road in Chimacum, Washington, where a small farmhouse once nestled. Betty never loved that house, but people around the globe read what she wrote about it and traveled long distances to see it, to walk around and through it, tell friends they'd been there.
There was an island home clinging to Vashon's steep slope, smelling of wood smoke and salt air and echoing with ferryboat whistles. And finally, there was a sprawling ranch in Carmel Valley, California, with slopes of sagebrush that rolled on and on beneath a powder-blue sky, as if the land was telling its own story.
At the beginning of this treasure hunt, I wanted to find Betty. By journey's end, I wanted others to find her, this young woman whose face was as familiar during the 1940s and 1950s as any movie star's, whose voice was the first—male or female—to entrance readers around the planet with a story deeply rooted in the great Pacific Northwest. I wanted none of her story lost. And I wanted modern readers—who knew her for the Piggle-Wiggles, if they knew her at all—to understand how richly Betty MacDonald deserved to be found.
Betty MacDonald died in 1958. She was 50 years old. Her books, starting with Egg, had tumbled out of her at break-neck speed: nine published volumes in just thirteen years. Nearly six decades after Betty's death, Egg remains one of the most successful first books of all time. Betty's work paved the way for humorists who followed her: Erma Bombeck, Judith Viorst, even Tina Fey and Amy Poehler.
Betty's work came from a deep complicated well. Her contemporary readers valued that, and modern readers—finding Betty through a mother, grandmother, or through the newly-available reprints of her classic memoirs—still treasure her ability to drain some of the venom from adversity and to make them laugh.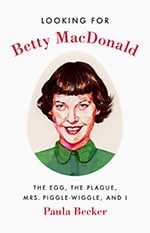 Excerpted from Looking For Betty MacDonald: The Egg, the Plague, Mrs. Piggle-Wiggle and I by Paula Becker (Seattle: University of Washington Press, 2016) and used with the permission of the publisher.
Paula Becker is traveling around the state giving free talks on Betty MacDonald as part of Humanities Washington's Speakers Bureau program. Find her talk, "The Truth and I: Reading Betty MacDonald in the Age of Memoir" near you here.