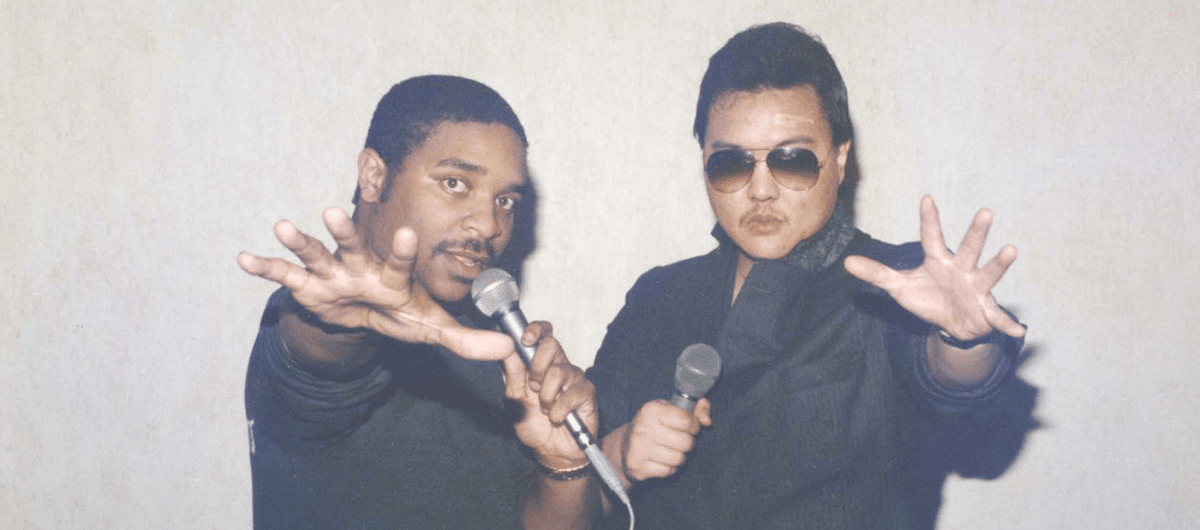 Back To All Blog Posts
How the Northwest Shocked the Hip-hop World
January 20, 2022
|
|
By Daudi Abe
Best known nationally for software, coffee, and grunge, Seattle may seem an unlikely place for a thriving hip-hop scene, with artists like Sir Mix-A-Lot and Macklemore viewed by the mainstream as "surprising" success stories. One recent jab from a cable music channel drives this bias home: while the 2012 song "Same Love" by Macklemore and Ryan Lewis, featuring Mary Lambert, played on the channel Hit List, the following graphic appeared:
DID YOU KNOW?
Macklemore grew up in the spoken word community due to Seattle's barely-there hip-hop scene.
These dismissive attitudes from outside sources about hip hop in Seattle are almost as old as hip hop itself. This perception persisted, despite the fact that nationally and internationally recognized figures from various aspects of the local hip-hop scene have emerged from the Northwest Coast over the course of nearly forty years. It's a bias that dates back to when New York City was still the center of the hip-hop universe, and serious doubts were cast on the legitimacy of nearly all material that came from elsewhere.
Then in the late 1980s an independent rap label, based in Seattle of all places, released two platinum albums and shocked the hip-hop world. Those albums were by Sir Mix-A-Lot. His story and that of the label NastyMix, founded by Mix-A-Lot, Nasty Nes, Ed Locke, and Greg Jones, speak to the unique nature of Seattle hip-hop—its willingness to go against current trends, its DIY attitude, its defiance of any particular sonic aesthetic, and its emphasis on community.
First in the West
As it had in New York, radio played an early and crucial role in build­ing a community around hip hop in Seattle. Without a doubt, the first person most responsible for this dynamic locally was "Nasty" Nes Rod­riguez, who had arrived in the United States from the Philippines in 1970. By 1980, Rodriguez became the host of a Sunday night show on Seattle's KFOX called FreshTracks. Initially the format of the show was to spotlight new music, primarily rhythm and blues or rap. However, the number of requests for rap songs began to dominate all others, and by 1981 FreshTracks became the first rap radio show west of the Mississippi River.
From the beginning, FreshTracks was a game changer. Live mix­ing and scratching on two turntables was completely new to Seattle radio. This foreign sound of Nasty Nes "in the mix" along with the rapid rise in popularity of hip hop created a diverse cross-section of listeners. Nes introduced his "Mastermix," a thirty-minute nonstop blend of popular songs. While based primarily in rap, these mastermixes followed in the footsteps of Afrika Bambaataa and pulled music from an eclectic variety of genres and artists, including Kraft­werk, Hall and Oates, and Los Angeles–based Egyptian Lover.
In 1984, Nasty Nes heard about a series of parties being held at the Boys & Girls Club in the Central District and went to investi­gate. Every weekend, someone who called himself Sir Mix-A-Lot was packing the gym, and for a dollar per person he gave the crowd a complete one-man show. Mix-A-Lot, who could cut, mix, and scratch records as well as rap, commanded the crowd. Thoroughly impressed by what he saw, Nes invited Mix-A-Lot onto KFOX to air his music. Sir Mix-A-Lot became the most popular artist on KFOX, receiving more phone-in requests than even Michael Jackson and Prince.
"This was Seattle's big gift to black America. People remembered it was good to have fun now and then. And it could only happen in Seattle because we were so isolated. We were free to do whatever we wanted."
"No Street Feel"
A Seattle native, Anthony "Sir Mix-A-Lot" Ray, grew up in the Bryant Manor Apartments on East Yesler Way in the Central District. He graduated from Roosevelt High School in 1981 without any for­mal musical training but had an ear and a passion for music. He also possessed a knack for working with machines and systems. This led Mix-A-Lot to begin experimenting and creating music with machines like the Roland 808 drum machine, Korg and Moog synthesizers, and a Commodore 64 computer.
From the start, Sir Mix-A-Lot's material was completely self-composed and arranged. Mix-A-Lot drew inspiration from the Emerald Street Boys, the first hip-hop performers in town to draw extended attention in the local media. By 1983 he was making songs and DJing on weekends at the Rainier Vista Boys & Girls Club in South Seattle. Word-of-mouth spread throughout the CD about these parties, and while Mix-A-Lot was busy setting up his equipment inside the gymnasium, hordes of excited young people gathered for impromptu preshow breaking and rap battles.
Quoted in The Rocket in 1985, Mix-A-Lot said, "I come up with stuff as good, from a musician's standpoint, as anything by [New York producer] Hashim or Dr. Dre, and I do it right here in this room." However, in the already competitive world of hip hop there were inevitable critics of what local music writer Glen Boyd described as Mix-A-Lot's "funk technology." Portland, Oregon artist Chris "Vitamix" Blanchard complained: "The West Coast Sound sucks. There's no street feel to it anymore, just all these synthesizers. Well anyone can spend $4,000 on synthesizers and be the best DJ in town. But where's the talent? I'm for rawness, this is supposed to be street music."
Mix-A-Lot's critique of the local scene was different. Responding to a comment in Billboard magazine, which sarcastically referred to his hometown as "that hip-hop hotbed Seattle," Mix-A-Lot's said the issue with the scene was that few people from Seattle believed in Seattle. He even cited local rappers who got onstage and claimed to be from the Bronx.
Seattle, Name-checked
Within a year of its release, Sir Mix-A-Lot's 1985 independent EP Square Dance Rap had sold more than forty-five thousand copies. As his popularity grew, Nasty Nes and Mix-A-Lot considered the idea of creating their own record label. Using a combination of Nes and Mix-A-Lot's names, NastyMix Records was founded in 1985 along with partners Ed Locke and Greg Jones. His follow-up EP, I'm A Trip (1986), was released on the newly formed NastyMix record label.
Mix-A-Lot's ability to produce material was matched by his willingness to pay dues. From the beginning, he had relentlessly sold tapes from the trunk of his car until record stores like Music Menu heard the street buzz and began carrying his music. But tension between Mix-A-Lot and other Seattle rap artists had become apparent. I'm A Trip was a reference to his feeling that he was being misjudged locally. "It's all a big lie. People say 'you got a big Cadillac, you're trippin. You think you're this, you're trippin.' So I just tripped through a whole song bragging on everything I have, which ain't much. I gave the people what they always wanted."
Sir Mix-A-Lot's steady buildup had him well positioned for a breakout hit. Originally released in 1987, "Posse on Broadway," with vocals partly inspired by the song "Paul Revere" by the Beastie Boys, stood out in several ways. One was by name-checking specific streets and landmarks such as Rainier Avenue, the intersection of Twenty-third Avenue and Union Street, Seattle Central Community College, and Dick's Drive-In. In the same way that KRS-One of the legendary New York group Boogie Down Productions described his home in the 1986 song "South Bronx," "Posse on Broadway" sent messages about Seattle culture to the rest of the world in a way that had never been done before.
In "Posse on Broadway," Mix-A-Lot acknowledged the diversity of his crew by mentioning his white real estate investor friend Larry, he spoke out against disrespect of women, and he described using mace on a man who was about to physically assault his girlfriend. This approach was in stark contrast to the likes of Niggaz Wit Attitude (NWA), who represented the swiftly emerging strain of hip hop known as "gangsta" rap. The only white people referenced in NWA's music were the Los Angeles Police Department officers they hated. Conflicts in an NWA song always ended with a shotgun or an AK-47, and women were referred to as "bitches" or "hos" more than anything else.
The video for "Posse on Broadway," featuring Mix-A-Lot riding around in a black Mercedes Benz limousine, showcased various parts of Seattle's South End, Central District, and Capitol Hill neighborhoods. Mix-A-Lot's mention of Dick's Drive-In, a Seattle fast food institution since 1954, created massive free publicity for the local burger chain wherever the song traveled. However, the owners refused to let NastyMix Records shoot any portion of the "Posse on Broadway" video at the Dick's Broadway location. Instead, the scenes were shot at Stan's, another drive-in burger restaurant located a few miles south of Dick's at the intersection of Rainier Avenue and Dearborn Street. Twenty years later, Mix-A-Lot returned to Dick's in an orange Lamborghini while making a cameo appearance in Jake One's "Home" video, Macklemore shot the video for his song "White Walls" standing on the roof of the building, and the owner personally apologized to Mix-A-Lot for the original snub.
Slow and Steady
"Posse on Broadway" experienced wide success as the single entered the national charts and the video appeared on MTV. This set the stage for the release of Sir Mix-A-Lot's debut LP Swass in 1988. The tone of the album radiated a unique vibe, as Mickey Hess noted in his book Hip-Hop in America: A Regional Guide. "Swass was extremely innovative and set Mix-A-Lot apart from many of his peers in rap music at the time," Hess wrote. "His rap in this album focused more on middle-class issues, using humor as an outlet, rather than depending on rage at a system or descriptions of life in the projects." Although Seattle certainly had its fair share of issues between law enforcement and the African American community, which Mix-A-Lot addressed in the song "Hip-Hop Soldier," for the most part Swass was about "having the most money and gold, getting the best women, and being the best rapper in the game."
Within a year of its release, Swass had entered both Billboard's Black and Pop LP charts and sold more than five hundred thousand copies, making it the biggest-selling record released by an independent Seattle-based label in years. Despite this, The Rocket noted in January 1989, "Sir Mix-A-Lot would have a tough time finding a gig here [in Seattle]. Yet in cities like Miami, Houston, Phoenix, and Detroit, Mix has sold-out crowds wanting to know more about the 'Seattle hip-hop sound.' " Swass's buildup was slow and steady—it took more than a year for the record to go platinum.
With two platinum-selling Sir Mix-A-Lot albums, things appeared to be going well at NastyMix Records in the late 1980s and early 90s. However, as was common among hip-hop artists in the early days, Mix-A-Lot was largely unfamiliar with the record business. Further, Mix-A-Lot was unhappy with the promotion of his second album, Seminar, which marked the end of his contract with NastyMix Records. Following a dispute over publishing monies owed to him, an Atlanta-based rap and blues label became Nasty Mix's primary stockholder. The eventual closure of NastyMix Records in 1992 represented the end of an era. According to the Seattle Times, "NastyMix put Seattle on the rap map and contributed to the city's image as a hot-bed of new, young music talent." Despite how it ended, NastyMix helped provide a blueprint of how to build a successful, minority-owned rap label outside New York that put out local music with global reach.
A Window Being Opened in a Stuffy Room
Not long after, iconic hip-hop label founder Rick Rubin offered Mix-A-Lot the chance to operate his own label, Rhyme Cartel Records. The first release on the label was Sir Mix-A-Lot's third album, 1992's Mack Daddy. In addition to investing $1 million in his new signing, Rubin had a marketing vision for Mix-A-Lot: "If you're gonna be a gangster, you'd be the boss." The look, complete with fur coats and cigars, was of a pimp who drives a Porsche, a rapper who was "too legit to give a shit."
The initial single from Mack Daddy, "One Time's Got No Case," focused on police use of racial profiling in deciding which drivers to pull over. The single sold fifty thousand copies and set the stage for the album's second single "Baby Got Back." When "Baby Got Back" was released in the spring of 1992, the response was immediate and not all enthusiastic. Because of its suggestive nature, MTV banned the video for "Baby Got Back." MTV had done this in the past—for example, refusing to broadcast the NWA video "Straight Outta Compton" in 1988 amid claims that the song promoted violence. MTV eventually agreed to air "Baby Got Back" but only at night. Just as it had in the case of NWA, the controversy simply made "Baby Got Back" more popular. The song spent five weeks at number one on the Billboard pop chart, making Mix-A-Lot the first Northwest artist to reach the top spot since Heart's "Alone" in 1987. The song was certified double platinum (two million copies sold).
Writer and editor Charles Mudede argued that Sir Mix-A-Lot's success "caught everyone by surprise because (1) Seattle was completely off the hip-hop radar, and (2) there was nothing in the main-stream that sounded remotely like his music." Sir Mix-A-Lot rapped only like Sir Mix-A-Lot, but, most important, "Sir Mix-A-Lot wasn't so fucking serious." "Baby Got Back," which opened with a conversation between two white girls disgusted by a Black woman's huge butt, "returned laughter to the hip-hop charts and the dance floor. The record felt like a window being opened in a stuffy room." KEXP DJ Riz Rollins added: "This was Seattle's big gift to black America. People remembered it was good to have fun now and then. And it could only happen in Seattle because we were so isolated. We were free to do whatever we wanted."
In his breakout hit "Posse on Broadway," Mix-A-Lot reversed field on the rising popularity of super-macho West Coast "gangsta" rap by calling out domestic vio­lence in his reference to using mace to defend a woman from her abusive boyfriend.
"Baby Got Back" was based on Mix-A-Lot's critique of traditional Eurocentric beauty standards and body shape. As he told Entertainment Weekly, "I'm sorry, but the popular image of a beautiful woman today is a bean pole. A lot of women, white and black, have thanked me for 'Baby Got Back.'" Controversy hovered as the song was labeled racist and sexist, and several Mix-A-Lot shows were picketed by protesters that accused him of exploitation by disparaging one group of women to build up another. When the nominations for the Thirty- fifth Annual Grammy Awards were announced on January 7, 1993, Seattle hip hop had truly arrived on the world stage. In the category for Best Solo Rap Performance, "Baby Got Back" faced superstar competition—"Addam's Groove" by MC Hammer, "Strictly Business" by LL Cool J, "You Gotta Believe" by Mark "Marky Mark" Wahlberg, and "Latifah's Had It Up 2 Here" by Queen Latifah. The announcement of Mix-A-Lot as the winner and presentation of his trophy was not seen on television as the Grammys had not yet made the decision to include the rap awards as part of the regular broadcast.
When his 1994 album Chief Boot Knocka was released, he again pushed the envelope with another risqué music video. In addition to this new album following up on the themes explored on Mack Daddy, "like that record it comes with plenty of pre-release controversy. The first single, 'Put 'Em On da Glass,' features an X-rated video that's so explicit even his publicist says she hasn't seen it and doesn't want to," wrote journalist Scott Griggs in The Rocket. Mix-A-Lot's 1996 album Return of the Bumpasaurus went essentially unnoticed by the mainstream. The Rocket reported Mix-A-Lot's success had created tension with some elements in the Central District: "Without going incognito, the man can't go back in the neighborhood he grew up in without a death threat. Please, he didn't kill anyone so what's the problem?"
Two factors potentially contributed to this strained relationship—one was the natural tension that occurs as an artist makes the transition from local to national/global, and the other was the ultra-competitive nature of hip-hop culture, which does not always celebrate the success of others without expecting said success to be spread around the scene.
Uncategorized
It would take over a decade before another Seattle hip-hop artist would break out internationally, when Macklemore released "Thrift Shop." In addition to a do-it-yourself ethos, both Mix-A-Lot and Macklemore shared a willingness to musically go against the grain of their respective eras. In his breakout hit "Posse on Broadway," Mix-A-Lot reversed field on the rising popularity of super-macho West Coast "gangsta" rap by calling out domestic vio­lence in his reference to using mace to defend a woman from her abusive boyfriend. Similarly, Macklemore and Ryan Lewis's songs "Thrift Shop" and "Same Love" countered two of hip hop's most pop­ular and oldest norms: bling (the celebration of expensive jewelry and name-brand clothing) and homophobia.
In addition to its lyrical diversity, the unique nature of hip hop from Seattle has continued to defy any particular label or sonic aes­thetic. Whereas New York hip hop, for example, had traditionally been associated with Roland 808 drum machines, and California hip hop relied heavily on synthesized and funk-based samples, no dom­inant style ever took hold in Seattle. It has long been maintained there is no specific way to categorize Seattle hip hop. This is in stark contrast to the grunge rock movement of the 1990s, which initially was known as the "Seattle sound."
Legendary New York MC KRS-One once stated that hip hop was less about race and ethnicity, and more about skill, ideology, and authenticity. Past examples of racial diversity in hip hop included Puerto Rican contri­butions to the development of break dancing and the acceptance of white rap groups in the late 1980s and early 1990s such as the Beastie Boys and 3rd Bass in New York City as well as Latino artists like Kid Frost and Cypress Hill in Los Angeles. Potentially complex interactions between diverse groups of people could be simplified with hip hop function­ing as a common point of cultural interest.
It could be argued that Seattle is one of the more inclusive environments in all of hip hop. This multiracial dynamic was demonstrated early on in Seattle's local scene, with the seminal meeting of Filipino DJ "Nasty" Nes Rodriguez and a young Sir Mix-A-Lot at the Rotary Boys & Girls Club in the Central District.
Daudi Abe is a professor, writer, historian, and the author of Emerald Street: A History of Hip-hop in Seattle, from which this article was adapted by permission of UW Press. Abe is also the author of the book 6 'N the Morning: West Coast Hip-Hop Music 1987-1992 & the Transformation of Mainstream Culture and From Memphis and Mogadishu: The History of African Americans in Martin Luther King County, Washington, 1858-2014 at www.BlackPast.org. Abe is also a past member of Humanities Washington's Speakers Bureau.
Learn more about hip hop. Check out "Hip Hop and It Don't Stop," a Speakers Bureau talk from Humanities Washington presenter King Khazm. Find an event.