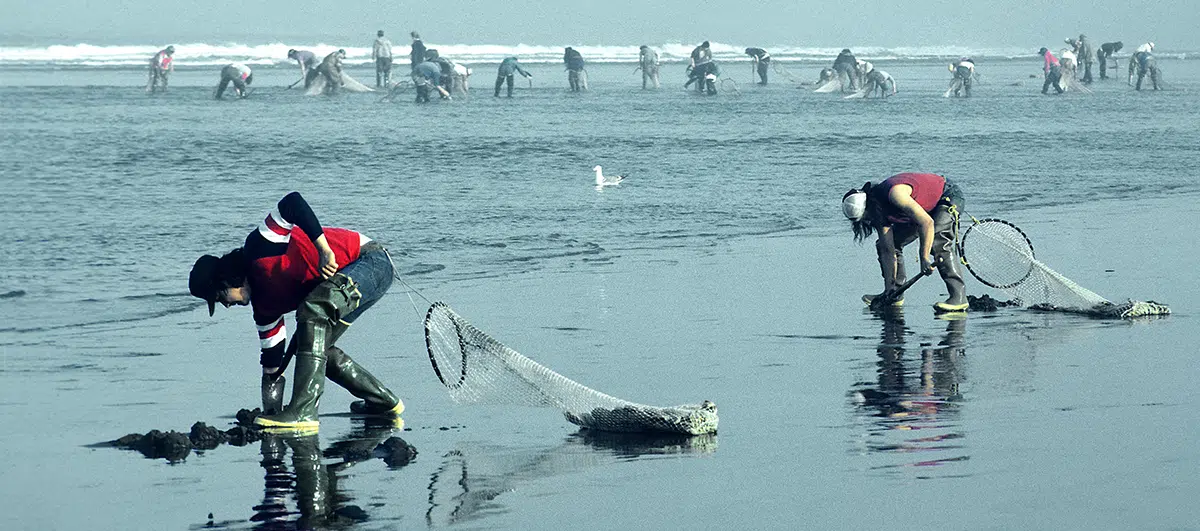 Back To All Blog Posts
"These Treaties Mean Something"
April 10, 2018
|
|
By David Berger
Travel to Long Beach, Washington, and you'll see not only a statue of a giant razor clam (insert 25 cents and it squirts water), but the self-proclaimed "World's Largest Frying Pan," used to fry up a giant clam fritter in the 1940s during the town's Razor Clam Festival. The existence of the fry pan and statue—not to mention the thousands of people who dot southwest Washington's beaches during peak season—speak to the near-mythic status of razor clams in the Pacific Northwest. Like salmon, razor clams have become a part of the state's cultural identity.
But while public clamming and festivals in places like Long Beach and Ocean Shores draw the most statewide attention, a large portion of each season's catch is shared with coastal treaty-tribe nations. Razor clamming has been an important part of tribal life for centuries, yet it took decades of court battles for their rights to be acknowledged. For the tribes, clamming isn't just about recreation—it's about income, sustenance, and cultural connection.
The Quinault Indian Nation (QIN), located on an isolated reservation thirty miles from Ocean Shores, has never had an iconic razor clam statue like the city of Ocean Shores did and the city of Long Beach does, but it does have a fishing treaty: "our all-mighty sacred treaty with the United States," as one tribal fisherman put it.
The QIN numbers about three thousand tribal members, including people of Quinault, Queets, Quileute, Hoh, Chinook, Chehalis, and Cowlitz heritage, all of whose ancestors traditionally razor clammed in the highly productive beaches north and south of Ocean Shores. About half of the QIN people live on the reservation, and the rest mostly in neighboring areas. On or off the reservation, virtually every Quinault member has dug razor clams at some time.
"Razor clams are part and parcel of tribal life, and a staple food for some," says Ed Johnstone, the QIN's policy spokesperson. "They're guaranteed to appear at festivals and Sunday dinners."
In 2013 QIN hosted that year's Canoe Journey, and tribal members dug and froze razor clams for many weeks in preparation. When they welcomed eighty-nine large canoes from seventy-five tribes, plus thousands of guests, after a paddle journey of hundreds of miles, they served razor clams as part of the celebration and feasting. It was unthinkable not to offer razor clams, along with other traditional foods, as part of the five-day event.
Every August there's a back-to-school dig for tribal families and kids. The dig takes place over two consecutive days, and participants gather on the tribe's reservation beach near Point Grenville. It's a chance to earn money for clothes, backpacks, and iPads in sunny summer weather. The tribe's commercial "buy truck" is right there to weigh out and pay cash for the clams.
For many years the Quinault people could razor clam only on the reservation beaches, and off reservation on public beaches with the same recreational opportunities afforded to all state residents.
Two landmark court decisions transformed the situation and fishing for everyone in Washington. First came the so-called Boldt decision of 1974—the case of United States v. Washington—in which U.S. District Court judge George Hugo Boldt affirmed the right of Washington's tribes to fish for salmon "in common with all citizens" in their "usual and accustomed grounds and stations." That language was from the treaties of 1854 and 1855, concluded by Isaac Stevens, then superintendent of Indian Affairs and later governor, with more than twenty Indian tribes in what was then Washington Territory. The treaties ceded millions of acres in return for reservation lands and the ability to retain certain rights; terms were less negotiated than harshly forced on the tribes.
Boldt, a conservative appointed by President Dwight D. Eisenhower, was tasked with determining what the treaties meant for the modern era. He heard testimony from legal scholars, anthropologists, historians, and tribal elders, and then said that fishing "in common with all citizens" meant the opportunity to harvest 50 percent of the allowable catch, plus the right to co-manage the resource.
The ruling created shock and controversy—half the salmon!—and, for its part, the state fought Boldt's interpretation all the way to the U.S. Supreme Court, which refused to consider the appeal in 1975.
In 1994, twenty years after Judge Boldt's landmark decision addressing salmon, U.S. District Court judge Edward Rafeedie presided over another protracted legal battle, a continuation of the original U.S. v. Washington, this time addressing shellfish rights. Rafeedie, appointed to the bench by President Ronald Reagan, listened to experts and spent a week touring shellfish beds and commercial operations by plane, van, and boat.
Judge Rafeedie, like Judge Boldt, interpreted the treaty language as the Indians would have understood it at the time. After hearing testimony that the "right of taking fish" in the 1850s would have meant harvesting anything that lived in the sea—not only fish but also clams, oysters, geoducks, crab, and marine mammals—Rafeedie delivered another shock to fishers and the general public by extending treaty fishing rights to include naturally occurring shellfish on privately owned lands.
The crucial treaty paragraph reads: "The right of taking fish, at all usual and accustomed grounds and stations, is further secured to said Indians in common with all citizens of the Territory, and of erecting temporary houses for the purpose of curing, together with the privilege of hunting, gathering roots and berries, and pasturing their horses on open and unclaimed lands: Provided, however, that they shall not take shellfish from any beds staked or cultivated by citizens" (emphasis added).
For the tribes, clamming isn't just about recreation—it's about income, sustenance, and cultural connection.
The "Shellfish Proviso" in the Stevens Treaties, prohibiting Indians from taking shellfish in staked or cultivated beds, reinforced the understanding that Native people had shellfish harvest rights. Why would there be a qualification if the shellfish harvest right wasn't there in the first place?
Rafeedie's decision was appealed by the State of Washington to the US Supreme Court, which in 1999 refused to consider the request. Sharing the shellfish fifty-fifty was the law. The Rafeedie decision addressed the tidelands of Puget Sound, full of oysters and hard-shell steamer clams, but it plainly had implications for all of Washington's shellfish and treaty tribes, and thus for razor clams as well.
Justine James, a QIN cultural resources specialist, remembers being astonished by the Rafeedie decision. He realized it meant razor clamming was back in a huge way—50 percent of the razor clams in the usual and accustomed places. Those traditional grounds amounted to twenty-three miles, or more than 40 percent of Washington's prime razor clam beaches, including the razor clam management areas of Copalis, Mocrocks, and Kalaloch—basically everywhere but Long Beach and Twin Harbors.
"These treaties mean something," says John Hollowed, a non-Indian legal and policy advisor who has worked for more than twenty-five years at the Northwest Indian Fisheries Commission, a consortium of twenty Washington State Indian tribes. "These are obligations and guarantees that the United States and therefore the states need to do. They are not something that disappears with time." QIN divides its 50 percent share of the clams between ceremonial/subsistence use and commercial digs. Tribal authorities supervise the digs and provide enforcement. The ceremonial/subsistence digs put food on the table and serve a variety of cultural purposes. They are open to any Quinault tribal member with an identification card, and there is a hundred-clam limit per dig. The commercial digs put money into pockets, as individuals harvest and then sell clams to the QIN seafood enterprise, which processes and markets them. Participating in a commercial dig requires a permit issued at no cost by QIN authorities.
There are only so many good clamming tides in a month. Out of necessity, tribal and public recreational razor clam digs take place during the same good low-tide periods around the full and new moons, but on different days. The two digs are like ships passing in the night. There are practical reasons for separation, to keep count of the number of diggers and clams taken, but it's emblematic of a situation that is often misunderstood or invisible to the public. Many, if not most, recreational clam diggers are unaware that their weekend digs are often bracketed by tribal subsistence or commercial efforts. The anger that exploded following the Boldt and Rafeedie decisions has eased with time and generational changes, but some coastal residents are still surprised or resentful when they see a tribal dig in progress; it just feels wrong to them.
Few realize how the various tribal and state razor clam authorities have learned to cooperate to conserve and co-manage the resource, or that the QIN and other tribes have their own staff for fisheries management and enforcement. The tribes have a deep appreciation for the role razor clamming plays in the coastal economy, because they are part of it—business spikes at tribal enterprises like the Quinault Indian Casino and Resort, located near Ocean Shores, when there's a dig, just as it does for all businesses in the area. Razor clamming brings in people. "It's amazing how many people dig those fifteen clams for the recreational harvest. It blows your mind," says Johnstone, the QIN policy spokesperson.
I went clamming with tribal member Leon Frank on a subsistence/ ceremonial dig in October. It was calm after days of wind-driven rain that had machine-gunned everyone right off the beach. More storms were on the way, but just now the slanting late-afternoon light was strong. The bellies of sandpipers flashed white as they swarmed by in tight formation just above the surf.
Only two people stood on the beach, Frank and myself. He was putting on hip-high boots and attaching a five-foot-long surf sack to his waist, just like the commercial diggers did in the early 1900s. It doesn't take long to dig a hundred clams, Frank assured me.
He was digging for his mom, he said. Going to bring her some clams. The tribal enterprise didn't have a market for the clams this month, he added with annoyance, so it was a subsistence dig, not a commercial one. Frank told me he could make two, three, four hundred bucks a tide on a commercial dig, easy. Five hundred to a thousand dollars on a good minus tide series. "That's enough for me for a month," he said in a singsong voice. "A way for me to survive. Pay my bills."
I realized just how important the commercial dig is to some Quinault people. Frank, fifty-one, was basically a professional digger, relying on the clams for a living. But there would be no commercial dig during this set of low tides.
"Is it hard to eat a hundred clams?" I asked.
He laughed. No, he said. Many households contain multiple families, and a hundred clams doesn't go that far. All this time the sun was descending, becoming a warm glow on the horizon, and he was pounding the beach with his shovel handle in a fan pattern, left to right—five hard pounds, a couple of steps, five more pounds, each bang throwing up a skirt of water and sand. But no clam shows. Normally they are all over, he said. He'd come early, way before the low tide while it was still light, to dig clams and not bother with a lantern. The water was thick with plankton, soupy in places like brown tea. Plenty of food for the clams. But the clams weren't showing despite all his pounding. When the clams are hiding like this there's not much you can do. It's just one of those things. Humans don't dominate the situation.
The breakers were coming in hard and rolling far up the shore; it made it difficult to cover much beach. Finally a hole appeared and Frank inserted the shovel, pulled back and compressed the sand, and reached in for the clam. The clams were starting to show now, and he was in constant motion, flowing and quick, just like the flocks of sandpipers and the light breeze.
Tribal cultures have formalized their thanks to salmon, in the salmon homecoming celebrations that honor the return of the fish in the fall, but according to Justine James, the QIN cultural resources specialist, there is no analog for razor clams, even though they've been a traditional food from time immemorial. James thought maybe some elders said a prayer before they went out, and typically some clams would be given to elders or contributed to a family meal. Frank expressed his appreciation in his own way. "A million clams last year for the tribe, a million for the state," he said, referring to the tribal and non-tribal harvest on Copalis and Mocrocks beaches. "That's amazing. And they tell us it's going to be as good this year. You dig, and then next month, and next year, you can come back to the same spot, and they keep showing up. Just go back to the same spot and get clams," he said in a voice tinged with wonder.