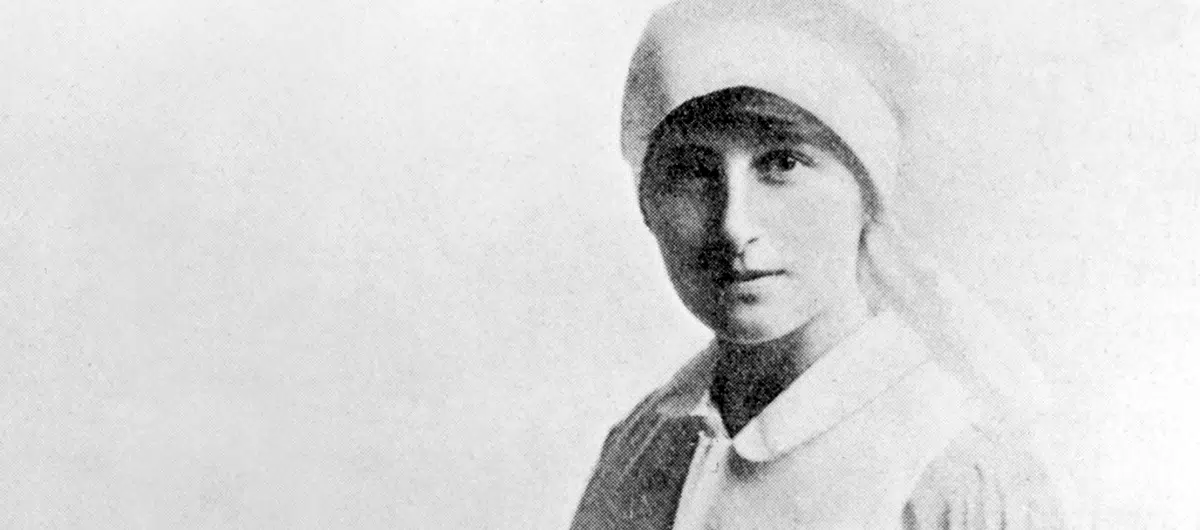 Back To All Blog Posts
When We Thought Fiction Could Prevent War
November 17, 2017
|
|
By Jefferson Robbins
Charles Andrews studies the "inter-war" generation of writers in Great Britain—like Virginia Woolf, Aldous Huxley, and Vera Brittain—who from 1918 to 1939 lived with memories of past conflict and fears of new ones.
"The inter-war period is this really exciting moment where literature still matters very much in society, and there are all these writers working to push the boundaries of creative expression," Andrews says.
"These writers were dealing with a world that had fundamentally changed because of war. Many people died, but there were also many who were left disillusioned and disenchanted about the state of the modern world, and the horrors it could bring."
Andrews, a literature professor at Whitworth University, examines this period of fiction in his Speakers Bureau presentation "Great Writers and the Great War: Literature as Peace Activism," in which he looks at multiple factors in inter-war literature: The rise of socialism, economic upheaval, changing class structures, and new forms of expression in fiction. British writers of the time were interested in opposing war, he says, but at heart they were most interested in writing.
Owing partly to the constantly simmering wars of the modern era, Charles Andrews' research says it's not clear if our generation will produce authors who can address war quite the way the inter-war writers did almost ninety years ago.
"In the early 20th century, you had periods of declared peace and declared war, and those are bounded times. You can be working toward peace, or speaking out against a war in progress." But now, he says, "We live in perpetual war in this moment, which means that that boundedness ends. For us today, comprehending war is the bigger task."
Humanities Washington: Were the inter-war peace novelists also veterans? Did you have to be a veteran to be an anti-war writer?
Charles Andrews: In most of the work that I've been doing, only one of the writers that I looked at was an actual veteran—if you define a veteran as a soldier who served in war. That would be Siegfried Sassoon. He was a decorated war hero who became an anti-war writer out of that experience. Most of the other writers were civilians who experienced the war on the home front. Some had been pacifist leaders, like Aldous Huxley, who resisted the war during World War I, and then became passionately invested in the Peace Pledge Union, the largest British peace union. All the writers I've examined in this project were involved as Peace Pledge activists in some ways. Some other, less-often thought about veterans were the nurses, who experienced war not as combatants but as firsthand witnesses. Vera Brittain went into the war as a nurse, very excited about her patriotic duty, and her brother and her fiancé and two male friends were all killed. That very much changed her experience.
George Orwell is having a comeback right now. Does he count among the pacifists, even though he joined up in 1936 to fight in the Spanish Civil War?
He initially was also part of the Peace Pledge Union, and he started in this movement as a pacifist — but he pretty quickly felt that taking up arms against fascism was the right way to go, and he became one of the fiercest critics of the peace movement. He claimed that pacifism was objectively pro-fascist, and that's something that several of the writers I deal with were responding to as they continued their work.
We live in perpetual war in this moment, which means that that boundedness ends. For us today, comprehending war is the bigger task.
Was activism the root and reason for creating these novels, or did it flow naturally into the text from the writer?
Charles Andrews: I think writers always struggle with this — all kinds of artists do. At least in Western literature today, we tend to think if the message is too clear, it's not as good a piece of art. Certainly, these writers were resistant to thinking of their novels as propaganda. They all wanted to write novels that would be seen as novels, but also invested with anti-war and pacifist ideals. The most successful examples were novelists who thought of their writing as a kind of witness — they wanted to be relational with an audience. Propaganda pounds you, and tries to convince you by bludgeoning, whereas witnessing wants you to relate. It demands an active reader—one who might have to struggle a bit more with Virginia Woolf's complicated prose, but then might more deeply accept some of the positions she's trying to take.
What are some examples of great peace writing that you recommend to people?
There are three novels that I promote most heavily in the talk. Siegfried Sassoon's "memoirs" of George Sherston is a trilogy of novels that are hard to categorize. They're very deeply based on Sassoon's own life, but he has cut out major portions of himself to create this Sherston character. For much of the books, they're very funny, and have these depictions of upper-class English life — foxhunting, playing polo, golfing — but all of those images are laced through with the war that is coming. It's this sprawling set of books that are very funny and engaging, and less dense at the sentence level than a writer like Virginia Woolf. Woolf's last novel completed in her lifetime, The Years, charts a family from 1880 until probably 1935, when she was writing. It was Woolf's bestselling book in her lifetime, and it tries to reveal this family in a society that's headed toward war. It was criticized for being too indirect, but I think we see it now as her need to avoid propaganda while still revealing parts of British society. I also like a more obscure novel by Vera Brittain. She's most known, if she is today, for her memoir called Testament of Youth, which is her story of being a nurse in the trenches. She published a novel after World War II called Born 1925, and that novel imagines the founder of the Peace Pledge Union, Dick Sheppard, had lived through World War II, and engaged this Christian pacifist socialist organization to oppose the war.
Erich Maria Remarque wasn't an English writer, so how did All Quiet on the Western Front wind up the best known inter-war, anti-war novel?
I would say there were a few reasons. The German edition comes out in 1928, and it was apparently successful, but the English translation in 1929 seems to have been even more successful as part of an early wave of what were called "the war books." Most of those came out ten years after the First World War. There were other "trench novels" that were written — Ford Madox Ford had the Parade's End tetralogy — but those seem to have been less successful. There's just a burst of writing by English and American writers in that period. Hemingway's A Farewell to Arms is right around that mark. So is Sassoon's trilogy. You have German and American and British writing that all seems to hit at the same time — there's a thought that it just took ten years after the war for the public it be ready for it.
Charles Andrews is presenting his free talk, "Great Writers and the Great War: Literature as Peace Activism," around the state as part of Humanities Washington's Speakers Bureau program. Find out where he's appearing next. Andrew's talk is presented with the Washington State Historical Society in commemoration of the 100th anniversary of America's involvement in World War I.